Since the start of 2014 there is a small-scale library in Apollo's and Innocent's house called Joanne's Library and Reading Club. It started as an activity for "Joanne's Children" but has grown into a library for many neighbourhood children as well.. Besides children's books also educational toys (like Nopper and Duplo) can be borrowed. During the school holidays an average of 30 children come to Apollo's house to read, play and borrow books. During the weekends sometimes more than sixty children come and visit joanne's Library and Reading Club.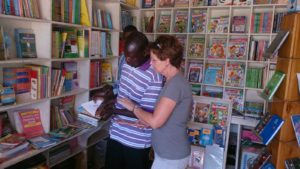 Joanne's Library and Reading Club aims at children not older than ten and also children whose parents are too poor to pay schoolfees. The Joanne Foundation is very happy that these children are now able to read children's books and thus improve their development opportunities. Apollo and Innocent (both originally teachers) open their home for these children and it is great to see the children run to Joanne's Library and Reading Club because they want to read and play.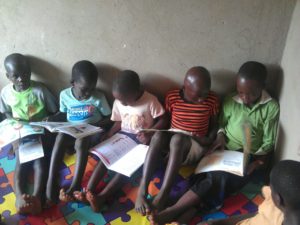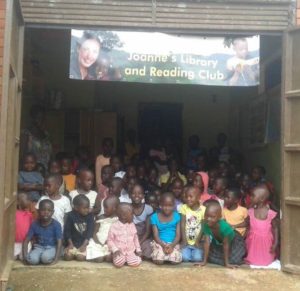 Initially the children sat outside reading and playing and when the weather was bad they read and played inside. This wasn't very convenient so we dicided to convert the storeroom and adapt it for Joanne's Library and Reading Club. Now there are benches for the children to sit on, the floor has been covered with linoleum and the local carpenter has made a nice cupboard to store the books and toys. Friends and acquaintances have sponsored toys and English children's books. Also money was donated to buy books so, together with Apollo, we visited the local bookshop and bought many books. Joanne's Library and Reading Club offer many children a lot of pleasure reading and playing.
Gerelateerde nieuwsberichten
JKIO
A wonderful music and dancing afternoon was organised for the children who visit Joanne's Library. Music teacher Kalungi sang with the children, made music and danced [...]
JKIO
Daily tens of children come to Joanne's Library & Reading Club to read and play with educational toys. But in the weekends between 60 and 80 children come [...]
JKIO
A lot of work is being done to rebuild the storeroom in Apollo's house into 'Joanne's Library and Reading Club'. Normally, an average of more than 40 children [...]