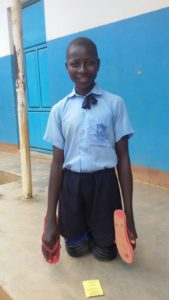 In the Netherlands the school holidays are over but in Uganda the second term has just ended and the students have a three-week-holiday. They all received their report cards and the results of most of the children are good.
Especially Godfrey's report card stands out. Until his fourteenth he had never had any education, he then started at primary school among 6-year-old pupils and now, two years later, he is one of the best pupils.
On the report cards the teachers write a sort of ranking. For a lot of pupils this will give a positive boost (e.g. for Godfrey) but it is frustrating for those students who do their best but find it difficult to keep up. During our visits to the schools we often ask the teachers in what way they deal with the weaker pupils.