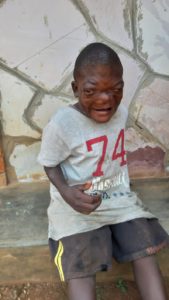 Sad news… our brave Yiga passed away 24 February. He had the Beare Stevenson syndrome and we knew that he wouldn't grow old. His health deteriorated the last few months but still he died unexpectedly. His heart gave up.
We will remember him as a cheerful and helpful boy. He played an important part in Joanne's Children Corner. He taught Rehema to ride a bicycle, he taught Diana and Charity how to wash their hands properly and he patiently tried to involve these two handicapped girls in ball games. He enjoyed making music, and he especially enjoyed playing the jembé.
The last few years became more and more difficult for him , he became short of breath, had headaches more and more often, tired easily and at the end he could only walk small distances using a stick.
We are sad that he is no longer with us but we know he will not have to suffer anymore.
We are so glad that we met him four years ago and that we were able to contribute to making his life more bearable than before.
Our brave and cheerful Yiga was 19 years old.
On 25 February many people attended his funeral.